Camp & Retreat Ministries
Sharing the Love of Christ in the Glory of God's Creation
Redirecting to http://holstoncamping.com/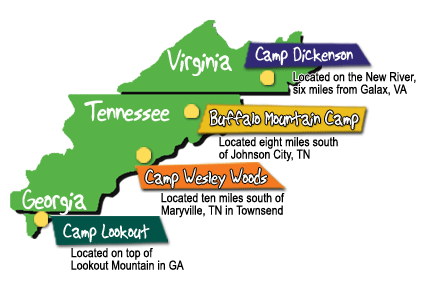 Holston Conference Camping is the combined ministries of four United Methodist Camps located in the Holston and Tennessee River Valleys of Virginia, Tennessee, and Georgia. 
We do ministries of Summer Camp, Retreats, Environmental and Adventure Education, and Christian Education and Service.

Together we will share the love of Christ with you in the glory of God's creation.

Randy Pasqua, CRM Executive Director
randypasqua@holston.org
Program Information
Jonesborough, Tennessee
Fries, Virginia
On Lookout Mountain, Georgia
Townsend, Tennessee
So that all might attend!
Four financial avenues to change lives.

Were you looking to make a one-time donation?
You may cancel the recurring payment at anytime via your PayPal account, or by sending us an email, or calling 865-293-4132.
Securing the future!