Evangelism Conference 2012
Evangelism & Witness
The 2012 Evangelism Conference took place on March 16-17, 2012, at Cokesbury UMC, Knoxville, TN.
The 2014 Evangelism Conference will be March 14-15, 2014.  
All Recordings are available here.


Watch the recording of Session One - Dave Hood on Rebuilding Relationships

Video streaming by Ustream

Watch the recording of Session Two - Rusty Eshleman on Restoring Hope

Video streaming by Ustream
SPEAKERS


Pastor Dave Hood serves as Campus Pastor of Fort McKinley UMC, Ginghamsburg UMC's urban campus in Dayton, OH. Fort McKinley was a dying church of about 40 faithful servants when Ginghamsburg merged with them in 2008 to revitalize the church and community. Today, Fort McKinley has over 400 in worship on Sundays and is making a huge impact in the community. Dave (who began his ministry as a rural pastor "in the cornfields of Ohio") holds an unwavering belief "that if God has offered us the unlimited power of the Holy Spirit, the life example of Jesus himself, and the full resources of heaven, then we have no reason for failure."

Rusty Eshleman serves as Worship and Music Leader at Fort McKinley and also coordinates their community ministries and outreach. Through Project Neighborhood and their breakfast ministry, they have very intentionally reached out into the 15-block area they have defined as their primary mission field. The result has been to radically transform the community.

We were wonderfully blessed to have Bishop James E. Swanson, Sr. lead our closing service of worship. Throughout his eight years as our episcopal leader, Bishop Swanson led the people of Holston with a powerful witness, a servant's heart, and the inspiration of the Holy Spirit.

We extend our deep gratitude to the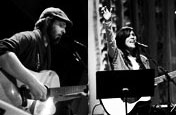 Ooltewah UMC Praise Band, Rusty Eshleman, Paul Jones, and others for leading our music and worship. Also, we are grateful to Cokesbury UMC for hosting the event.
Streamed recordings from Evangelism Conference 2011