It's Cecil Harville's birthday, and his wife Janet has made chai cookies and hot tea. They're not for Cecil, who would have turned 79 on April 20, but for Janet and her afternoon guest as they reminisce about the late pastor and his big idea.
The Rev. Cecil Harville died of cancer on March 26, 2004, yet his gift to Holston re-blooms each spring. A retired local pastor in the Morristown District, Harville was the first leader and creator of Jubilation, Holston's annual retreat for older adults.

This year, Jubilation happened for the 12th time on April 22-24 with more than 300 participants over the age of 50 at MeadowView Conference Center in Kingsport, Tenn. Attendance was up 25 percent over the previous year, said the Rev. Gaye King, associate director of connectional ministries.

"Statistics tell us that age 50-plus is where the United Methodist Church is and will continue to be no matter how many 'Calls to Action' we have," King said. "At some point we are going to have to realize that older adult ministry is important, too."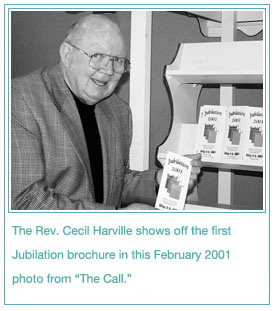 This year's event featured entertainer (and United Methodist) Jeanne Robertson, with a "Healthy Living Expo" sponsored by Asbury Place. The retirement home community is also a financial sponsor of Jubilation.

'He loved it'

This year, on Cecil's birthday, Janet was preparing to attend Jubilation with friends from Asbury and her congregation at First Maryville United Methodist Church. She moved to Maryville in 2009 and now lives in one of the 40-year-old cottages on the Asbury campus.

"I wanted to be closer to my family," said the mother of four children and 11 grandchildren. Janet currently attends First Maryville UMC with her grandchildren and accompanies her blind granddaughter to a program for disabled young adults at Sycamore Tree UMC.

Janet and Cecil were high school sweethearts in Franklin, Ohio. Cecil was a steel company executive who "knew he wanted to be in ministry," his wife says. When he retired in 1985, the couple moved to east Tennessee, where Cecil's parents had roots and had also retired.

By 1987, the former big-company vice president -- who had previously lived in Venezuela and Germany -- was living in Bean Station, Tenn., and working as a licensed local pastor.

"It was a marvelous opportunity for someone who had a calling, to be able to fulfill that," says Janet. "He loved it."

The Rev. Harville was pastor for two Morristown District churches: Mary's Chapel for 10 years, and Mooresburg for nine. He retired for the second time in 1997 and began to participate on Holston's Adult Ministries Council.

When the group started talking about older adult ministries, Harville had a vision of what could happen.

Bob Ergenbright, director of music for Broadway UMC, served on the first Jubilation design team and has been a key part of music and audiovisuals for the annual event ever since.

"Cecil had a real passion for senior adults and wanted them to have something like Resurrection," said Ergenbright, referring to Holston's spiritual retreat for youth. "If it wasn't for him, Jubilation would have never have happened."

"Cecil was great at organizing. That was a skill God gave him," his wife says.

Still going, growing

With funding from a Holston Conference Foundation Margaret Loving grant, Harville and team created a new senior gathering with a speaker (Bob Kesling), worship (Rev. Charles Lippse), entertainment (The Golden Cloggers), and workshops (computers, retirement legal aid). The first Jubilation was held May 4-6, 2001, at Grand Hotel in Pigeon Forge.

See 2001 photo album on Facebook.

Harville's prostate cancer had been diagnosed by then, and the pastor wasn't shy about publicizing it to publicize Jubilation.

"They're going to be looking at issues just like mine," Harville said of the event's intended age group, in a 2001 edition of The Call. "We need to be willing to speak up about our illnesses so that others can be aware."

Jubilation continued to grow and change over the years, eventually relocating from Pigeon Forge and Gatlinburg to Kingsport. Cecil Harville led the ministry until the Rev. Bob Bostick took over in 2004. Bostick then led Holston's older-adult ministries for seven years, organizing Jubilation while helping districts create smaller senior gatherings throughout the year. Bostick retired after Jubilation 2011.

Today, Janet says that her husband would be proud of how the event is still reaching older adults in Holston.

Ergenbright agrees: "He's up there right now, looking down and saying, 'Ha! I told you so.'"


See also:
Author
Annette Spence is editor of The Call, the Holston Conference newspaper.